What a fantastic day we had with Class 3/4H - the coach arrived at Stuart Allanson's farm in Jurby on a very cold Thursday morning. The children then came back to Douglas after lunch and visited us at Robinson's on Cooil Rd.
Stuart showed us the varieties of vegetables he grew on the Isle of Man and Katherine showed us how the vegetables were seeded and grown in greenhouses until they were ready to be planted in the fields. All the children were well equipped with warm clothes, hats, clothes and of course their wellies. The fields were very muddy which the children loved! Stuart showed the children carrots and parsnips in the ground and showed the machinery he uses to extract the vegetables. We were then all taken to the warehouse where the vegetables are sorted and packed ready for delivery to Robinson's. The visit was finished off with packed lunches in the greenhouse and some freshly baked carrot cake made by Mrs Allanson - recipe on the back of Allanson's Farm carrot bags mmmm!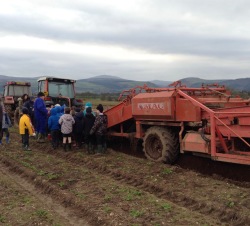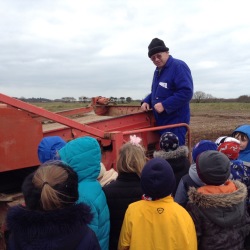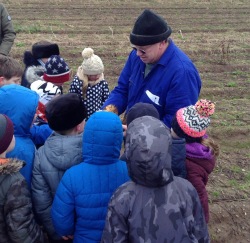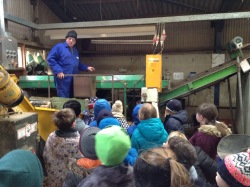 Some quotes from the children after their visit to the farm ;-
"I loved seeing the seeds going into the soil, it was really interesting." "It was fascinating seeing the carrots coming out of the ground."
"I really enjoyed seeing the machines." "The carrot cake was delicious." "I loved walking in the mud!"
Later that afternoon the children arrived at Robinson's. Paul met everyone and chatted about Manx grown vegetables, the children were intrigued with some of the more exotic fruit and vegetables too. Angelo from The Fishmarket showed the children the various seafood on the fish counter and of course the lobsters were a hot as usual. Mrs Smoothie then called in to see the children and danced around doing the conga while everyone tucked into a delicious fruit platter :)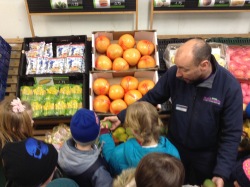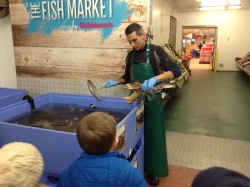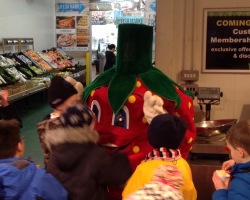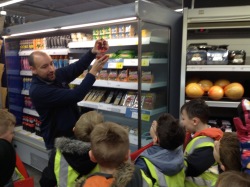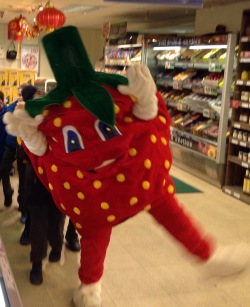 Some quotes from the children after visiting us at Robinson's;-
"There was loads of information, it was really interesting." "The lobster was really slimy and it made me jump!"
"I loved trying the pineapple, it was my first time and it tasted yummy." "I loved dancing with the strawberry."
Thanks for the visit guys hope you enjoyed it as much as we did!