Fruit for Business
We specialise in delivering the finest fresh fruits to Isle of Man's workforce. With a range of boxes available dependant on the size of your office, it's a fantastic way to keep your staff fit and healthy.
Fruit for Business service provides fresh fruit delivery to businesses in offices and throughout the Isle of Man as well as schools, shops, hotels and restaurants. We offer a regular delivery service for businesses on a daily or weekly basis, depending on your requirements.
What our customers say…
Increases staff motivation
Helps promote wellness
Improves morale
Increases productivity
Cuts out snacking and unnecessary breaks
Example Prices...
fruit box 200 pieces 40x5 varieties £58
fruit box 150 pieces 30x5 varieties £45
fruit box 100 pieces 20x5 varieties £30
fruit box 60 pieces 15x5 varieties £24
Bananas, Oranges, Clementines, Plums, Green & Black Grapes, Pears, Apples: Pink Lady, Golden Delicious, Red Delicious, Granny Smith
We also offer...
assorted waters, variety of cans & bottled drinks, variety of tea and coffees, biscuits & cakes
for more information please call our sales team on 690000 or e-mail orders@robinsons.im
To set your company up for a regular delivery contact us.
Signature for Business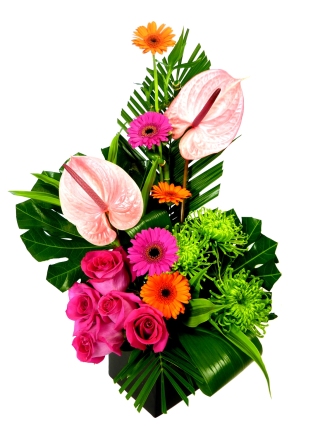 Our Flowers for Business service delivers fresh flower arrangements for your office, restaurant, shop or corporate environment, each week.
We source the freshest flowers each week to create gorgeous displays from a simple hand tied bouquet for a reception area, to more elaborate displays for the boardroom.
Flowers make a significant first impression for your customers and clients. As well as the wonderful aesthetic advantages, having flowers in the office contributes to stress reduction and staff well being.
Get peace of mind by ordering a regular weekly flower delivery which will ensure your office has fresh flowers all year round.
We now offer a FREE TRIAL. We are so confident that you will love our office flower service that we will let you try it out for FREE.
At prices from £23+VAT our flowers, whilst of the highest quality, offer incredible value.
You can choose from a variety of sizes for your weekly flower delivery and of course can have any number of arrangements, to suit your business requirements.
To set your company up for a regular delivery contact us.