Thu, 14 May 2015
The search is on to find talented chefs with a passion for cooking fresh, seasonal and local ingredients.
Entries are invited for the Isle of Man Chef of the Year competition.
Richard Ronan MHK, Minister for Environment, Food and Agriculture, said: 'This competition, generously sponsored by Robinson's and an important part of our 'Food Matters' strategy, will put the spotlight on Manx talent, produce and the significant contribution of the food and drink sector to the economy.'
Details and entry forms can be obtained from the Department of Environment, Food and Agriculture, Thie Slieau Whallian, Foxdale Road, St Johns, Isle of Man, telephone 685856, or downloaded from www.gov.im/foodanddrink
There will be links to the competition on the Facebook page Isle of Man Food and Drink and Twitter feed @iomfoodanddrink
Chefs must submit the recipe they plan to create with their entry form and ingredients should, as far as possible, be Manx grown or produced.
The closing date for entries is 30th June.
Shortlisted chefs will cook in front of an enthusiastic audience at the Queenie Festival on Sunday 16th August and finalists will then compete for the Chef of the Year title in the Manx Food Theatre at the Isle of Man Food & Drink Festival at the Villa Marina Gardens on Sunday 20th September.
The first prize is £500 cash plus media coverage to the same value for the winner and their place of work, together with a trophy and a certificate.
Janna Horsthuis, from Robinson's, said: 'We are delighted to sponsor this competition, which celebrates both the culinary talent of the Island's chefs and the quality of local produce.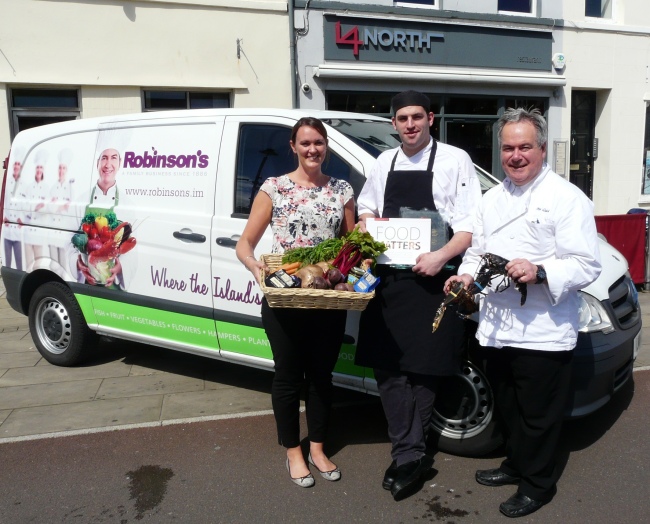 'We are committed to supporting and promoting the excellence and diversity of Manx growers and producers. Many local chefs purchase produce from our stores and we would encourage them all to compete for this prestigious award.'
Last year's winner, Darren Woods from 14 North, Douglas, commented: 'The competition provides a fantastic opportunity for chefs to showcase their skills and gain valuable publicity for themselves and their place of work. We benefited greatly from the coverage of the competition and I would really recommend chefs to consider taking part in this challenging and rewarding competition.'
For the first time, the contest will be complemented by an Isle of Man Student Chef of the Year competition.
Thirty students on hospitality and catering courses at the Isle of Man College of Further and Higher Education will take part and four will make it through to heats at the Queenie Festival. The title will be decided at the Isle of Man Food & Drink Festival.
The winner of this new competition, also sponsored by Robinson's, will receive £250, a trophy and a certificate.