Thu, 22 Sep 2016
What a fantastic weekend we had at the annual Isle of Man Food and Drink Festival, held at the Villa Marina Gardens. We were there along with a whole host of exhibitors including Betty's hand-made pie and mash, Jabali African cuisine, Isle of Man Creamery, Taylor Made Cakes, Jerk Mek Ya & Roots Beverages.
Robinson's were present in the main tent with a stand featuring some of our fantastic local growers; Allanson's Farm, Ballanelson Nurseries, Greeba Farm, Maurice Cooil, Mike Kneale to name a few.
Robinson's were delighted to sponsor the Chef of the Year and Student Chef of the Year - Chefs took the finest Manx ingredients and turned them into tasty dishes before a knowledgeable audience yesterday on the Sunday. Congratulations to Zaneta Krol, winner of the Isle of Man Chef of the Year competition! The chef from Haworths competed against David Hall from Macfarlane's, preparing a delicious Honey Parfait with Okells Aile Porter worthy of this year's trophy. Well done to both chefs, it wasn't an easy decision for the judges! David's dish of Manx brill and confit Manx pollock with fennel, cauliflower puree, Anna potato and red wine sauce also impressed the judges. Gareth said both chefs displayed great skill and confidence and it had been difficult to choose a winner.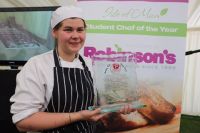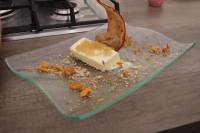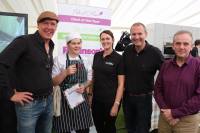 Meanwhile, John McMullen became the second ever Student Chef of the Year at the festival and took home a trophy and £250 cash.John cooked a rack of Manx lamb cooked in hay with courgette and mint and Manx cheese potato cake, with carrot and turnip puree and a red wine sauce.Judges had a tough time deciding between John's dish and Henry Tung's creation – cooked pan-seared Manx duck with caramelised figs and onions, accompanied by a peppered rosti, bacon and sage crumb and a blackberry and port jus.Both John and Henry learned their trade at University College Isle of Man (UCM) – which offers BTEC, GCSE and NVQ qualifications in hospitality, catering and food and drink – and qualified for the final through heats held at UCM. John now works for The Courthouse while Henry works for Jak's Bar and Steakhouse
Paddy's Hooked on Fish brought their lobster tanks & Larry the lobster made an appearance. We had some of Paddy's most popular products on sale with leaflets and goodies to give away to the children.
The Fish Market's new food trailer made it's debut with some delicious fishy food choices, lobster baps, queenies, Paddy's hot smoked salmon mmm.

The most popular tent by far was the children's activity tent, the fantastic Linda Hewitt was heading the tent that was sponsored by Robinson's, Linda and her team along with Paul & David from Robinson's were helping children with pasta making, butter making, smoothies, bread making and monster vegetable creations.
more info at;
http://www.iomtoday.co.im/news/isle-of-man-news/pictures-showcase-of-finest-manx-food-and-drink-at-festival-1-8134487