Tue, 26 Sep 2017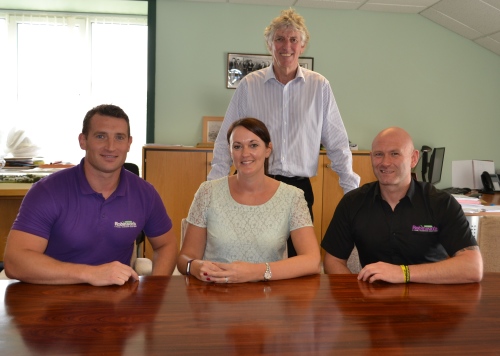 Photo - L-R Ross Williamson – John Horsthuis – Janna Horsthuis – Matty Mathieson- Nelson
Robinson's, the family-run food services retailer and wholesaler, has unveiled a series of Board appointments which signal confidence in the future of the business. The restructuring formalises a number of changes which have been taking place organically over the last couple of years as the business has continued to grow in scope and stature.
With effect from 11th September 2017, John Horsthuis will be Chairman, and Janna Horsthuis will take up the role of Managing Director. As Group Operational Director, Matty Mathieson-Nelson will oversee all areas of operational developments, while Ross Williamson will become Retail Director, joining Noel O'Reilly and Tony Horsthuis in running the retail arm of the business.
From humble beginnings – a market stall set up in 1886 – Robinson's has evolved, over five family generations, into one of the Island's best-known business names. The organisation now employs over 175 people and provides a wide range of food and floral products and services to consumers in the Isle of Man and the UK.
As Managing Director, Janna will be responsible for strategy, customer relations, HR, and ensuring that the business fulfils the potential created by recent investment in new technology and delivery systems. Her appointment continues the Robinson's tradition of strong female leadership which began with company founder, Mary Robinson.
Janna comments, "I have early memories of helping out in our shops from a very young age, counting the banking with my grandmother, Joan Horsthuis. This must have influenced my decision to push to join the business after finishing university in 2002.
"To be appointed Managing Director is an absolute honour, and it's wonderful to be part of a great family business which originally started from the female side and has come full circle. Working in a male-dominated industry always gave me the drive to prove I was more than capable of taking care of all areas of the business, so this is a very personal achievement. One of my goals now is to encourage more women to see potential career opportunities in this industry".
With the implementation of new systems in the company's wholesale division, Matty and his team have already significantly improved the reach and efficiency of its delivery service. He is, says Chairman, John Horsthuis, "a sure hand to oversee the development of all areas of the business equally, bringing ideas to fruition and looking for ways to optimise productivity amidst changing economic conditions. The role will also involve continuing to improve efficiencies; integrating the wholesale and retail operations in the face of changes in the digital and bricks and motor marketplace".
"Meanwhile, Ross began on the floristry side of the business as a schoolboy and has been integral to our retail operation for some time. From our gift bouquets and hampers to our local and world produce lines, demand has never been higher, so we welcome the expertise that Ross will bring to his new role as we continue to grow. It will also enable Tony to reduce his workload over the next three years".
In terms of day-to-day business and external relationships, Janna anticipates very little change as a result of the new Board structure. Where it will make a difference is in the long-term health of the company. "Watching the business grow and develop has been very exciting and rewarding" says Janna. "To continue to grow, we can't stand still: we must embrace change. Through succession planning, forward thinking and investment in our people, we can ensure that Robinson's continues to thrive in the coming years. I'm hugely appreciative both of our fantastic, dedicated team, and of all our loyal customers who continue to share our journey".