Mon, 03 Jun 2019
Our very own, Jordan Keig of The Fishmarket has been honoured with a prestigious award for excellence in his profession. Jordan, 21, won the inaugural Master Fishmonger Standard Young Fishmonger Award, which recognises exceptional knife skills, customer service and passion for the industry. Jordan was presented with his award at a ceremony on 3rd June at the Fishmongers' Hall at London Bridge, home of the historic Worshipful Company of Fishmongers.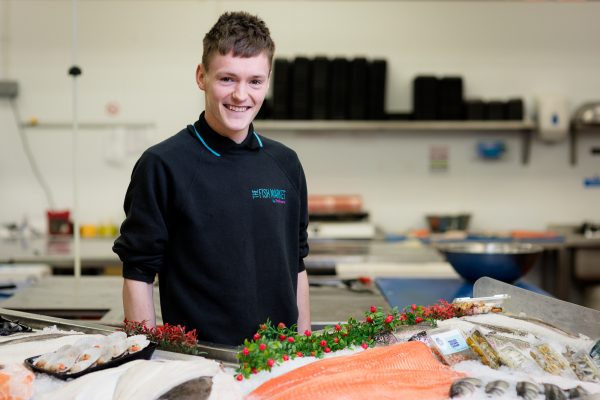 The awards scheme of the Fishmongers' Company, one of the oldest and most prestigious City Guilds, is the first of its kind for the industry and recognises outstanding achievement at different levels of the profession; the Young Fishmonger Award focuses on fishmongers aged 25 and under. Jordan was selected from a shortlist of four candidates by a combination of online public vote and a panel of certified Master Fishmongers.
Jordan was nominated for the award by his boss Jay Gore, Head Fishmonger at Robinson's Fishmarket. Jay comments, "We are all exceptionally proud of Jordan. He has worked really hard and committed to learning his trade, so we are delighted that his effort, talent and skills have been recognised by a highly respected institution. Since he joined us as an apprentice, he has come so far. There is no doubt that he has a bright future ahead of him".
Jordan has been enthusiastic and dedicated in his role since day one. "Being from the Isle of Man, and living by the sea, I've always been interested in fresh fish and seafood. That interest rocketed once I joined Robinson's. My favourite part of my job is working in the retail section, talking to customers and getting to know their needs. I've become an integral part of the local community, which makes me really proud.
"It still doesn't feel real that I can now call myself Master Fishmonger Standard Young Fishmonger of the Year 2019. I never thought I could achieve anything like this, so to go and win it is truly amazing. I would like to thank the MFS for providing such a brilliant award and for giving young people who love the seafood industry something to strive for. I'd also like to thank everyone in my Isle of Man home for voting for me".
Matty Mathieson-Nelson, Operations Director at Robinson's said "I am very proud of Jordan, he thoroughly deserves the award and recognition for his hard work and dedication to our business. Jordan is a natural with our customers and his customer service is outstanding. Jordan is a credit to himself, The Fishmarket and Robinsons."
For more videos and interviews please click below...
Three FM video interview https://www.facebook.com/watch/?v=2268365770071165
Manx TV Paul Moulton video interview https://www.youtube.com/watch?v=Sa2JH7SD0sc&feature=youtu.be&fbclid=IwAR11K51BSeR9A4RaF6BbqhK0PZqyQpkzHDoysmTTSJF3Tukjj9Oq-Wxrll4